Ghost 4.0 — This popular open-source publishing tool / CMS just hit a major new point release, adding a new dashboard, membership features, integration tweaks, and neat frontend changes such as responsive, lazy-loading images everywhere, and notable performance gains.
Ghost
Just-In-Time: The Next Generation of Tailwind CSS — As good as Tailwind CSS is, one downfall can be the complexity of the resulting CSS for build tools and browsers. No fear.. Tailwind is getting a just in time compiler to compile your CSS on demand as you author things. The result? Faster build times and better browser performance in development.
Adam Wathan
The Definitive Guide to Feature Management — Feature management is a new class of software development tools & techniques powered by feature flags. A feature management platform like LaunchDarkly fills the gaps of conventional feature toggles. Ship fast. Rest Easy. LaunchDarkly.
LaunchDarkly sponsor
CSS Generators: Useful Tools and Techniques — Here's a few handy tools for your frontend toolbelt which will help you generate things like gradients, drop-shadows, bezier curves, type scales and more.
Iris Lješnjanin
📙 Tutorials, Articles & Opinion
Creating Patterns with SVG Filters — A look at the how you can create neat effects by layering SVG filters with <feTurbulence> and random patterns, with advice on how to use the end results in production.
Bence Szabó
CSS Auditing Tools — A quick look at some tools to help you dive into your CSS, spot duplications, and generally clean things up.
Iris Lješnjanin
Remote Full-Stack Software Developer Opportunity — Write Code that Matters. Faithlife is looking for Full-stack Software Developers who can help us build awesome web software. Join us as we make revolutionary technology for administration and discipleship for churches all over the world.
Faithlife
🧑‍💻 Got a job listing to share? Here's how.
🔧 Code, Tools and Resources
transition.css: Drop-in CSS Transitions — This is yet another option for a drop-in CSS library that only requires HTML attributes. The site itself is interactive and lets you test and customize each of the transitions.
Adam Argyle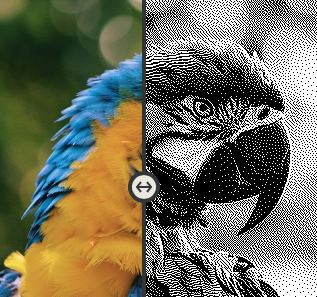 Dither Me This: An Image Dithering Tool — Includes a before/after simultaneous diff preview. You can select from various presets or use custom dithering settings to give any image an old-school feel.
doodad