The Rules of Margin Collapse — Adjacent margins in CSS can sometimes overlap. This is known as 'margin collapse', and Josh notes it has a reputation for "being quite dastardly". This excellent, comprehensive, interactive tutorial dives into everything you need to know about it, covering the eight rules of margin collapse.
Josh W. Comeau
The 'Import on Interaction' Pattern — You know what's faster than loading lots of front-end code? Not loading it. You can then 'lazy-load' non-critical resources when the user needs to actually use them. Addy Osmani digs in deep as to how this can work here.
Addy Osmani
Designing High-Impact Dashboards for BI — Embedded analytics can transform your product, but terrible presentation can get in the way of great data. Design expert Laura Klein shares UI/UX guidelines and tips to improve your application's dashboards, analytics, and reports.
Logi Analytics sponsor
Bootstrap 5 Beta 1 Released — The journey towards a stable v5 release of this popular framework continues. The biggest new thing here is RTL support.
Mark Otto
📙 Tutorials, Articles & Opinion
Progressively Deliver New Image Formats with CSS and Cloudflare Workers — When your browser makes a request, it can tell the server what types of responses it accepts, including what image formats it supports. Couple this information with a Cloudflare Worker.. and you can dynamically return more modern formats like AVIF or WebP to users and know it'll work.
James Ross
FSJam Podcast — A new show featuring conversations about the emerging world of fullstack jamstack apps. Explores the development practices of the frameworks, libraries, and services enabling this new paradigm.
Anthony Campolo and Christopher Burns podcast
Find Your Next Job Through Vettery — Create a profile on Vettery to connect with hiring managers at startups and Fortune 500 companies. It's free for job-seekers.
Vettery
🧑‍💻 Looking to share your job listing in Frontend Focus? There's more info here.
🔧 Code, Tools and Resources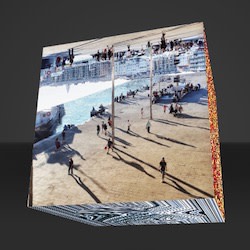 InstaCube — Maps six photos from your (or any public) Instagram feed on to a cube. Some neat CSS 3D animations here too. The related repo is here.
Jorge Moreno
Pure CSS Monument Valley II — A very impressive CSS recreation of the beautiful puzzle game from Ustwo. Note: This doesn't work as intended in Safari.
Julia Miocene codepen