You Can Write Your Own Angular Data Grid, but Why? — Data grids are a daunting task. We work hard to make the task not only easy and enjoyable. Kendo UI for Angular's data grid is fast, full-featured, & customizable. And part of a 100+ component library. Learn more with component info, blogs, & demos.
Progress Kendo UI for Angular sponsor
canistilluse​.​com — When looking up a certain feature on caniuse.com Jim asserts that "there's an incredible assumption many of us make when interpreting its UI" — that given enough time everything will go green and stay that way. What happens when Web functionality goes away?
Jim Nielsen
📙 Tutorials, Articles & Opinion
Performance in Progress — Here's an overview of the performance improvements the Firefox team have been implementing over the past six months, including changes to responsiveness, security, and web standards.
Kim Moir
Creating an Interactive Gantt Chart Component with Vanilla JS — Coding a Gantt chart (commonly used as a way to visualize schedules) as a reusable Web component, covering the architecture of the component, rendering the calendar with CSS Grid, and managing the state of the draggable tasks with proxy objects.
Anna Prenzel
🔧 Code, Tools and Resources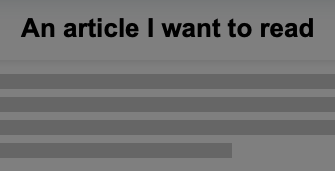 'how i experience web today' — A frustrating and wholly accurate recreation of just trying to read an article on the modern web. We can do better.
liguangyi
💬 "Code is there to explain the comments to the computer."
___
Andy Harris (via CodeWisdom)